Press release: HONG KONG, 6 February 2023
Asendia, one of the world's leading e-commerce logistics providers, today announced the strategic hire of Joshua Mclarin as CEO of Asendia Hong Kong/ North Asia.
This is a major milestone for Asendia who have had a presence in North Asia since 2012 with Joshua bringing his expertise to support the growing market needs.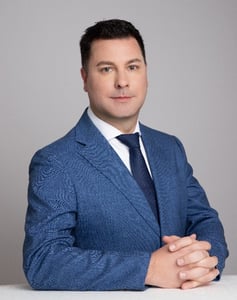 Joshua has over 20 years of logistics experience, mainly in cross-border logistics. In his last position as managing director of Imperial Logistics, based in Shanghai, he was the first leader of its China subsidiary. He was tasked to set up the company and was in charge of 3PL and international freight management in China. He has rounded out his expertise after having serviced for 16 years e-commerce marketplaces and mono brands across Asia Pacific, including New Zealand, Singapore, Thailand, and Australia, with cross-border delivery solutions. Prior to this role, he was Vice President of Regional Sales at Quantium Solutions International (a Singapore Post subsidiary), where he was responsible for business across 12 countries in the region. Joshua developed origin operations in Europe, linehaul agreements and last-mile in Singapore and Asia Pacific to allow fast onboarding of retailers into the network. Joshua brings proven results and experience to Asendia with an aim to truly service the growing needs of e-commerce retailers and brands looking to expand into North Asia.
"With Joshua on board Asendia, the strategic management team covering Southeast and North Asia is regenerated for new challenges," said Lionel Berthe, Head of Asendia Asia Pacific. "Stuart Foster, Managing Director of Asian Desk, APAC (Asendia Asian Desk), and Senthil Kumar, CEO of Asendia Singapore/South Asia (Asendia Singapore Pte Ltd) have just joined the team in January 2023. The hire of Joshua strengthens Asendia's commitment to the North-Asia region."
These senior appointments of Asendia APAC emphasize a clear focus on the company's strategy to expand its reach to the North Asia market, especially to the Chinese e-commerce market, which was estimated to generate around US$1.5 trillion in revenue in 2022 – the largest revenue share globally and double of the estimated e-commerce revenue of the United States of America in the same year[1].
Geared towards Expansions into North Asia
Strict pandemic lockdowns and disruptions to global supply chains have directed increasing consumer flows to online retailers, especially in China [1]. The combined markets of China, Japan, South Korea and Southeast Asia have accounted for a majority of global e-commerce sales. Overall, the region's B2C E-commerce Gross Merchandise Value is projected to increase from US$3 billion in 2021 to US$5,3 billion by 2026[2].
Joshua Mclarin, as CEO of Asendia Hong Kong, will highlight the immense growth opportunities in China and North Asia for brands and retailers around the world. "Each market has its own nuances, challenges, and opportunities. Mainland China generated 108bn parcels in 2021. Whilst the market is mature and fiercely competitive, there are significant opportunities given the CAGR is in excess of 30%. With my experience, leadership, and entrepreneurial spirit, I am looking forward to capitalising on this growth in Hong Kong and North Asia leveraging Asendia's strong global network, systems and value-added services," Joshua commented.
Asendia Full Team Onboard
Together with Senthil Kumar, CEO for Singapore and South Asia, and Stuart Foster, Managing Director of Asian Desk, APAC (Asendia Asian Desk), the Asendia strategic management team will be working together in full force to expand and provide the best support to clients at large.
Senthil is a highly experienced leader who brings with him over 15 years of experience in general management, e-commerce and logistics and has held senior leadership positions in DHL E-commerce, Samsung and most recently with Janio Asia. "Although the current market situations are not ideal from a macro-economic perspective - South and Southeast Asia are still very rife with opportunities for e-commerce cross-border flows. With China now coming out of the COVID-related lockdowns, I believe that Asendia is well placed with the necessary network, technology, and people as our main competitive advantages to tap into synergies across Asia Pacific. I'm excited and honoured to be part of the Asendia APAC management team and look forward to helping our customers optimize their e-commerce logistics supply chains using a consultative approach," said Senthil.
Stuart has almost 20 years of extensive experience in the parcel delivery industry. Stuart started his career with UPS before moving to La Poste France where he successfully launched the International Sales department of Colissimo (a subsidiary of La Poste) as the Head of International Sales. "Asendia's greatest strength is to be able to satisfy all the e-commerce merchant needs. Thanks to the customs solutions in the main European gateways such as Liege, Amsterdam, Frankfurt and Paris, with tracked and untracked services, we can deliver to all the countries a merchant will need. Our expedited delivery network can offer our customers in China and Hong Kong efficient access to the European market. We are also developing additional solutions to increase volume exchanges between Europe and Asia. Asian consumers are very keen on buying European goods. We want to facilitate the shipping process to empower European sellers on these strategic markets," said Stuart.
Asendia has been active in Asia Pacific, including North Asia region, since 2012. The group has subsidiaries in Singapore, Hong Kong, Australia and New Zealand. Asendia provides brands, retailers, marketplaces and consolidations logistics and digital solutions access to global markets through extensive and innovative distribution solutions, harnessing their worldwide postal partnerships.
[1] https://www.statista.com/forecasts/1283912/global-revenue-of-the-e-commerce-market-country
[1] https://www.mordorintelligence.com/industry-reports/asia-pacific-ecommerce-market
[2] Asia Pacific B2C Ecommerce Market Report 2022